Hello my friends,
Wow, it is hard to believe we are home from our south western adventure. There were so many times over the course of our trip where I realized I was completely immersed in our activities. In a beautiful way. I found myself captivated by my wife, by nature, and the paths we were on in that moment. To be so captivated was beautiful. I would like to share a bit about our adventure.
We were unplugged and out of normal roles for 7 days. Our trip started with a Grand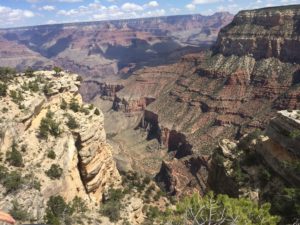 Canyon adventure. I will never forget first walking to the edge of the Canyon with Kara. The view to me looked like an optical illusion. There was so much depth to the canyon, I could feel it. It would be similar to looking over the edge and feeling sick to your stomach because of the height. I would call that your ability to sense space and is a form of spatial intelligence. When I looked at the Grand Canyon and sensed it, such an awe of beauty came over me. This rock that has been shaped by the rain from above, the wind from various angles, and the rocks yearning to be vertical, create such a beautiful shape. On one hand, the surroundings feel like they should not exist. On the other hand, it feels like the most beautiful sculpture that is almost finished and therefore your mind can wonder with the possibilities for how it could be finished.
Since our trip was long and we covered one thousand miles in driving, I suppose it's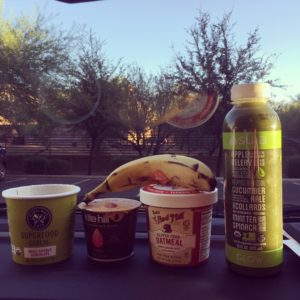 important to hook you up with a quick couple of facts. One, if you have not met my wife, she is amazing. She looked up the local grocery stores and food stops for us in order to keep our nutritional habits on point. When we first arrived in Phoenix we knew where to go in order to get the snacks for driving one thousand miles.
In this picture, you will see a green juice, oatmeal, a banana, and a yogurt. When traveling, we found it important for us, to keep with a degree of consistency in our nutritional habits. Why? Because we eat so well at home, and well, in this case, that means organic, and locally sourced, then when we travel if we go off the reservation and eat all restaurant food, inevitably it can lead to a bad conclusion and digestive distress.
The plane ride
Since the plane ride was about 5 hours, then you could imagine how stiff we got on the plane. Since we are movers aware of the stiffness that can happen, then we brought a lacrosse ball in order to roll out in our seats. I suggest this to everyone when traveling. You will be pleasantly surprised if you know where to apply and how to apply a ball for relieving muscle tension. When you open up a restricted part of your body, then it allows for more adequate blood flow, and that makes a difference to how you feel when you get off the plane. In my humble opinion, you can either arrive at your destination stiff and ache, or with open and available tissue ready to adapt to the new terrain.
To the West!
The Grand Canyon was lovely. Along with the visual stimulation, we walked around and took in the local trails that were possible to see the Grand Canyon, and it is Grand, from different angles. I think we stopped at over 5 or 6 specific sites to take in the view of the Canyon. If you would like specifics, if you plan to go to the Grand Canyon, or have a friend who is going, or if you are just plain curious, please feel free to write me at Dominic(at)DominicSessa.com and I can share our itinerary with you.
Our last stop at the Grand Canyon was a little off the beaten path. We went to Desert

View Watchtower. Now, maybe it was because it was off the beaten path. Maybe because it was less crowded or maybe because it was a different view of the Canyon altogether. I am not sure. But, we loved it here. The energy and surroundings were much different. In the sense, that the surroundings felt more peaceful, welcoming, and a degree more pleasant visually. The structure of the Desert View Watchtower offered the opportunity to see the canyon from different points and this was fun. A word of warning when traveling. Oh boy, do you know how far apart some of the gas stations are? Well, let me tell you, they are far a part from one another. And, I found out the hard way.
When traveling and in need of gas, I usually wait for the best gas price. I tend to look at three gas stations and then travel a bit for the cheaper or more efficient location. No, you cannot do this in this region. I waited, and I persuaded Kara to let me wait. Bad idea. When we stopped, we were lucky enough to get a gas station right next to the Desert View Watchtower location. The gentlemen was extremely friendly and the price was a bit higher then the other stops. I guess when you wait then you certainly will pay a convenience fee. At this point, I was grateful for the gas and happy that he opened his doors for us before the place was open. I can elaborate more if you want, please feel free to ask.
No time to waste, on to the next stop!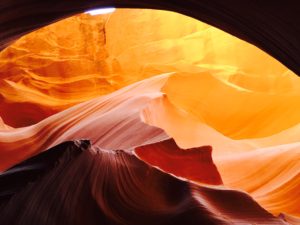 After leaving the Grand Canyon, we were on our way to Page, Arizona. Why Page? We had Page in our sights because of Antelope Canyon. Antelope Canyon is a slot canyon, I think this is how you describe a Canyon that is under ground. There are two sides of Antelope Canyon, the Upper, and Lower Canyons. The views were gorgeous, more on this in a bit.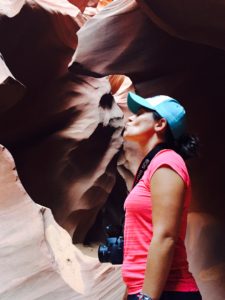 We stayed at a local chain hotel. It served the purpose of providing a clean living space that we could use as a home base while we looked into the town. Since we arrived in Page Thursday afternoon and we were planning to leave the next day, then we wanted to take in the local vibe and what better way then through the food and restaurants of the region. Right? Therefore, that evening after having an amazing adventure at Antelope Canyon we went to Big John's Texas BBQ. It was AWESOME. The tables we set up family style and everyone sits next to strangers. Both at the Grand Canyon and in Page there were many International people from all over Europe and Asia. At dinner on our one side was a couple visiting from France and the other side were Americans visiting a few local sites. Next to Kara was a gentlemen whose daughter had created a clothing line called the Warrior Within. He was a nice man. I asked him if I should get the whole rack of ribs or just a half a rack. He had a good suggestion.
Onward!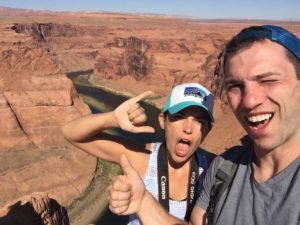 Before we go on to Horseshoe Bend, let me talk about Antelope Canyon. The views of Antelope Canyon were gorgeous. Aw inspiring. By seeing this natural wonder it evokes a reverence for the land and natural beauty of nature. I felt the same childish wonder when we perched on a cliff at Horseshoe Bend. The depth, and knowing that the Colorado River flowed through Horseshoe Bend was amazing. We could see boaters floating through the Canyon. I wondered what their perspective was looking up in all directions to see this vast Canyon. My wife planned many of our stops for our trip. I am grateful for her careful planning and it certainly aided us in having a smooth trip and transfer over the course of traveling over one thousand miles.
To Sedona!
On Friday September 16th we started our trip towards Sedona from Page. Along the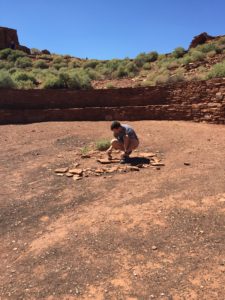 way we made a pit stop at Wupatki National Monument. Within this area we located a sacred circle used as a special site from 1100-1200. I felt compelled to build a rock stack within the sacred circle. Here is a picture of my rock stack. Wupatki was an amazing place because of its remote location combined with its engineered building. When you think about the tools and engineering mindset available to people of the southwestern desert in 1100, I am not sure what comes to mind for you, but for me, I expected a modest set up. However, I was pleasantly surprised to see a structure that comprised over 100 rooms and has lasted over 800 years later. A beautiful site for us to stop at and learn about the culture on our way to Sedona.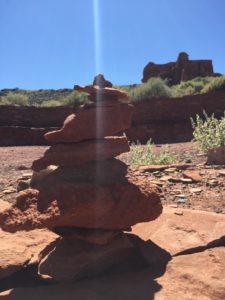 The approach means everything sometimes.
For our trip in to Sedona our approach certainly helped to set the tone of the trip. Kara had planned for us to take a 14 mile drive between Sedona and Flagstaff, Arizona. What a beautiful and energetically rich canyon for us to pass through. I could feel the energy shift as we drove down and I felt a change that put me at ease. If I had to choose one word to describe Sedona, I would choose organized. If I had to pick two words, I would choose spiritually organized. The region has an

aura and presence that made me feel organized and cared for in terms of a spiritual presence. How would I describe a spiritual presence? In a sense, it is in the quiet part of your mind when you have your eyes closed and your attention drawn inward. At those moments, I felt included, loved, and my thoughts felt practical and peaceful. By peaceful I mean the speed of thought and the tone were of communion and reverence. Hence, I could understand while the people of Sedona were so naturally friendly. The region provided a spiritual food that helps the mind be at ease. When you are internally at ease, it is so easy to be kind and practical. By practical, I mean kindness without being weak. I think when people think of the word kind they do not naturally associate that with being pragmatic and practical, and I think they should. Sedona was beautiful.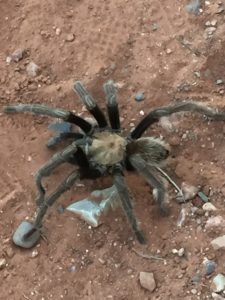 We spent the better part of the next 4-5 days exploring Sedona. Of course, being spiritual minded, we set off to explore a couple of vortexes. We included as many sunsets and sunrises as possible. If you have the time to view a sunset, and the time to watch the energy of the sun heat up a rock to the point of making it glow, then you know what I mean. It was inspiring. We started our Friday off in Sedona by taking a moonlight hike. It was the full moon on Friday, September 16th provided by Red Rock State Park. We had a wonderful guide named Jon who took us through the park and provided us a wonderful experience. Our first adventure into the wilderness in Sedona helped us to see a tarantula and hear a couple of rattle snakes. I am happy to report we did not see a mountain lion. Jon said there had been a recent sighting in the park but that the odds were so low that we should not expect to see a mountain lion on our hike.
The many vortexes of Sedona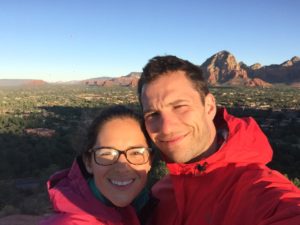 We loved the region. We spent every moment hiking and outdoors. Again, if you want to know the many hikes and trails we took, please ask. Every moment we had was spent outdoors. The trip helped me to love my wife more. As I learned how she read a map and provided an experience for us. I started to understand more of what she provides for us at home. The care she takes to plan and the consideration she has for our needs was highlighted over the course of the whole trip. If I were to say what the trip provided me, it helped me to see more of her, and for that I am grateful. Together, we had an amazing time. We were able to spend time chatting, and enjoying each others company without the necessity and pressure-prompted nature of our east coast life. And, I must admit, we love our east coast life. We enjoy being busy and productive in the community. We both have jobs and career paths that allow us to care for others. We both find great joy in loving and helping others to be successful. And this trip, allowed us to turn that glow towards each other. That was awesome J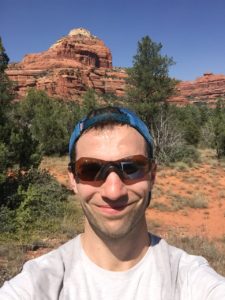 The energy in Sedona was beautiful. We found a couple of restaurants I wanted to frequent constantly. Hey, I found a place I like, why not keep going, right? Yet, Kara wanted to check out a couple of different places, spend some time sampling more of the area. I loved that. I enjoyed learning more about the region through her eyes and recommendations. Was it what I would have done if I were along? Certainly not. Did I enjoy sampling other parts as a result of her influence? You bet! I enjoyed seeing the region through my eyes and hers. I believe that as a result of balancing what we both wanted to see and experience that our trip was rich with adventure. On a side note, if you go to Sedona, making the extra effort to see the sunset and sunrise from different perspectives and points, is worth it. You will see a new part and piece of the landscape each time. I know we did.
And, today, September 24th as I write this post I am grateful. I am grateful for sharing the story of our adventure with you. I hope the many of you whom I serve, benefit from the energy I gained from Arizona. I hope the many of you who subscribe and read my posts enjoy and that this post provides you with an inspiration for your day. In the end, I am grateful to share with you the adventures and fruits from our travels.
Now that we are home, and settled, I will be sharing a bit more with you. I have an announcement to make publicly coming out tomorrow. So, please stay tuned 🙂
With love and peace,
Dominic Sessa